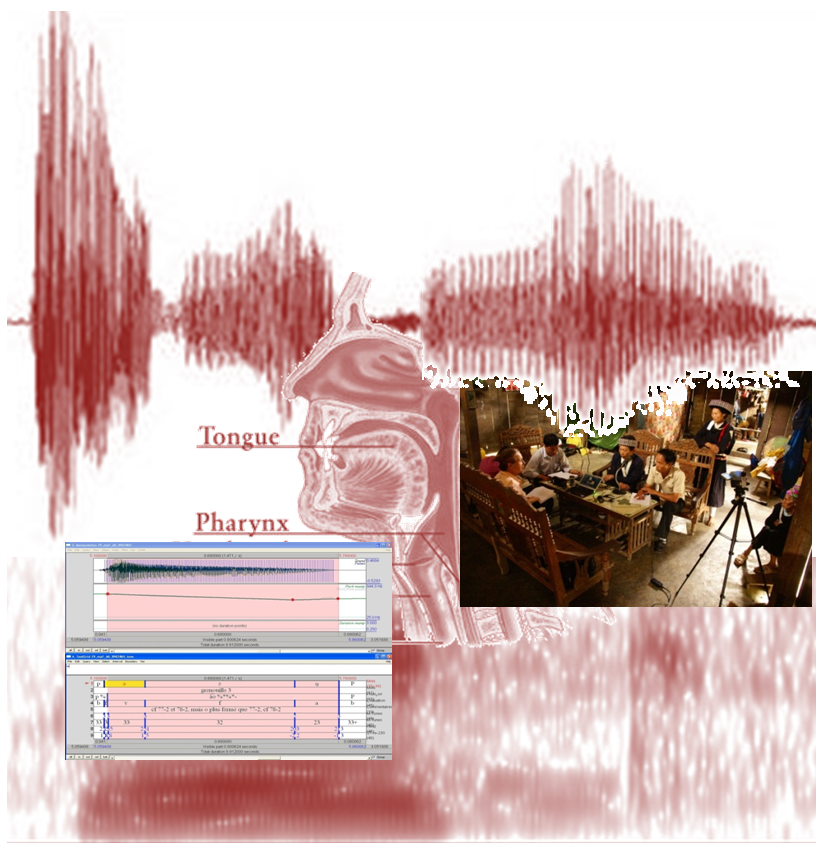 Main objectives: the "Speech Communication" Department mostly performs fundamental research, while also keeping an eye on applicative development. The scientific interest of the department concentrates into studies of linguistics, phonetics and phonology of Vietnamese, and other languages in Vietnam and in the near region, in order to better understand the mechanisms of production/perception/understanding, and in order to transfer these fundamental results to the development of high technology in Vietnam. For several years, the department addresses simultaneously fundamental research and more applied research through Natural Language Processing (NLP) and Vocal Technologies. However, the department researchers aim not to study all possible topics in NLP and speech processing (a very large research field), but they aim to provide the MICA Institute with indispensable tools in order to realize, through the use of multimedia, speech communication tools in Vietnamese, Khmer and Lao, useful for man-machine or computer-aided man-man dialogue.
Indeed, these tools will be very useful for Vietnamese industrials that wish to modernize and integrate speech technology in their tools or application.
MICA Speech Communication Department is the only Vietnamese research team leading simultaneously both research activities: linguistics and natural language processing, and vocal technologies.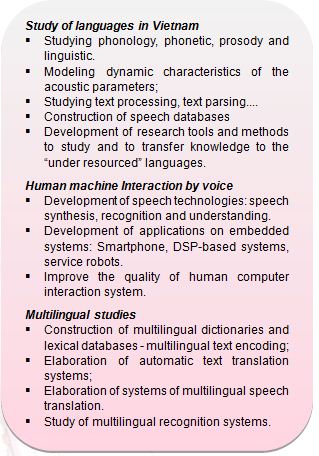 Research axes and activities:
If it seems natural that "Speech Com" researchers study the Vietnamese standard language (ethnic Viet/Kinh), it is nevertheless important that they are also interested in other languages spoken in Vietnam. Indeed, these languages present common origins (or at least regional characteristics) and are mostly tonal languages. From a scientific point of view it is fundamental to understand the specific involved mechanisms and attempt to extract generic models.

However, it is vital for Vietnam to have technological tools and applications using the Vietnamese language (and other languages of the region). These tools are strongly involved in the development of information technologies in Vietnam and the region. They already play a very important role for socio-economic development. These technologies, known as vocal technologies, are often necessary in the development of human-machine interaction systems.

Another scientific motivation is the development of its research activities under the "multilingual technology" field, developing multilingual machine translation tools or multilingual synthesis/recognition tools (with the Vietnamese as one of the languages covered).

AuCo: Audio Corpora of languages of Vietnam and neighbouring countries
The AuCo collection hosts audio recordings of language of Vietnam and neighboring countries, including data of endangered/little-endowed languages. it allows for cumulative progress in speech data collection: Preparing, recording and annotating audio data sets. The data can be prepared in such a way as to be re-usable by others, for various purposes (including phonetic / phonological analysis, and automatic speech processing, but also language teaching / language revitalization).

Fieldwork on Mo Piu (Green H-mong)

 
Acoustic Dynamic Gesture applied on ASR
Speech plays a vital role in human communication. Selection of relevant acoustic speech features is key in the design of any system using speech processing. For some 40 years, speech was typically considered as a sequence of quasi-stable portions of signal (vowels) separated by transitions (consonants). In view of inherent limitations of static approaches, the approach adopted here consists in studying both vowels and consonants from a dynamic point of view.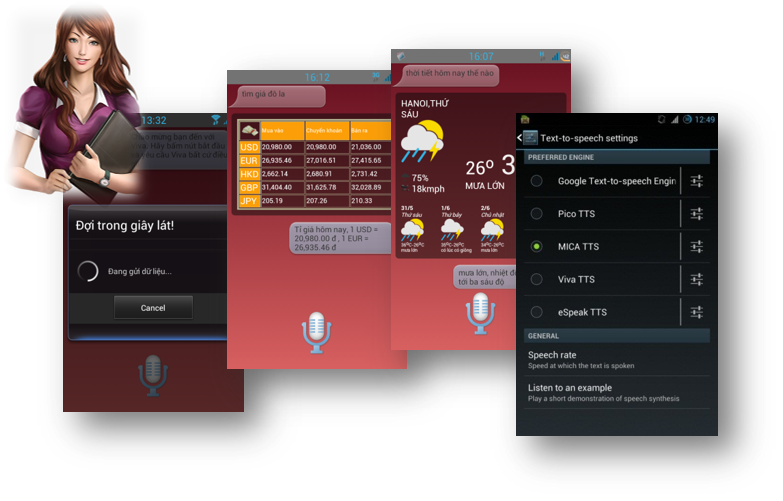 VOVA : High quality Vietnamese TTS engine for Android.
Vova is one of our successful transfer technology's products with industrial enterprises (here is Samsung R&D in Vietnam). The product is the first completed solution of high-quality Vietnamese TTS engine for Android, which contains TTS engine, voice data packages for general purpose, screen reader, information query, a database management server, a toolset for building new voice sub-packages.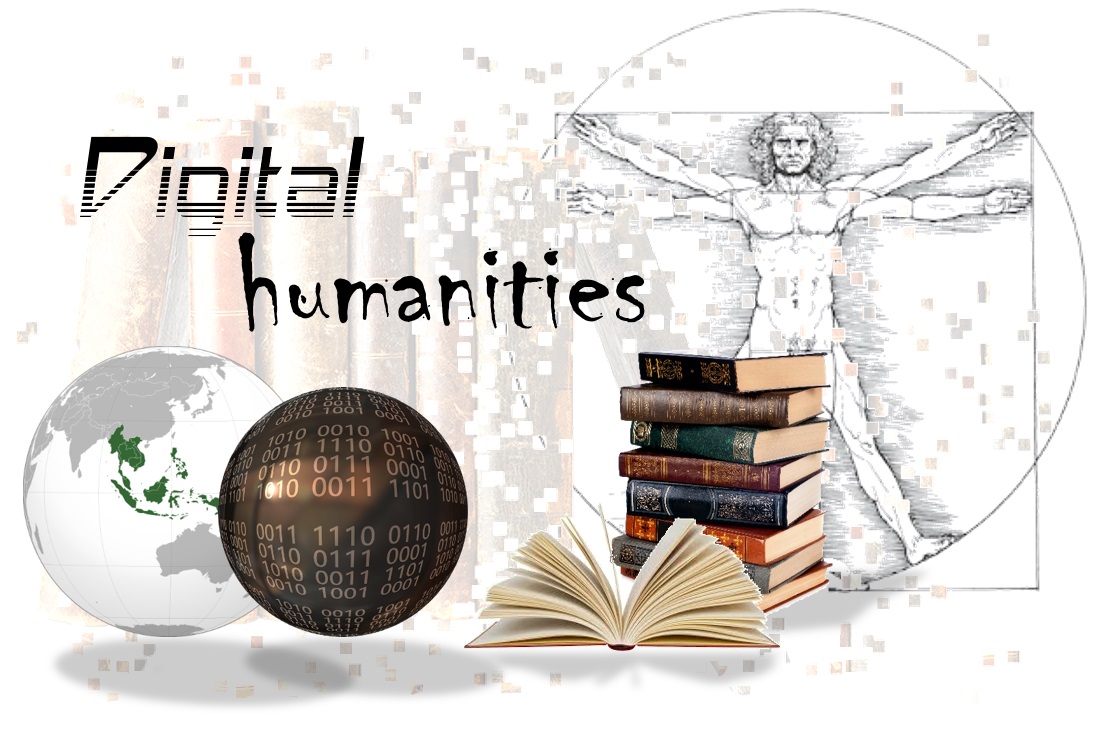 Digital humanities:
Researchers at the Institute MICA believe that there can only be digital humanities to the extent that researchers in social sciences enter into a strong association with researchers in computer science (and in information technology in general), working on joint projects. Only a close association between these two categories of researchers can open into new paradigms, new concepts, and hence new applications: such is the programme of digital humanities. Is is why Speech Communication Department work very closely with linguists, phoneticians, historians, or specialists of ergonomy and interaction, in order to develop tools and applications at the borders between technology and the human and social sciences. The TAPASSA project, conducted in cooperation with EFEO Hanoi, is one good example of this concern.


Projects in process
- ÂU CƠ (AUdio COrpus of Vietnamese minority languages)
- VNSpeech Corpus+ (Realisation of a large database for Vietnamese language)
- Acoustic Dynamic Gesture model on featyre vector construction (and application on Vietnamese ASR)
- Estimation of the shape of the vocal tube from formant values estimation (and application on speech synthesis)
- Parralel fragment extraction in building training data for machine translation, applied for different language families
- TAPASSA (Traduction Automatique Probabiliste Appliquée aux Sciences Sociales en Asie)

Recent completed projects
- ANR Blanc APPSy (Asymétries Phonétique et Phonologique de la Syllabe - 2011-2016)
- DoReMiFa (Données de Recherches linguistiques de Michel Ferlus en Asie du Sud Est - 2014-2015)
- VOVA (Hight quality Vietanamese TTS engine for Android - 2015)
- RECO²CONTROL (1st phase 20090-2011, 2nd phase 2011-2015)
- APRIL (Avancées dans le Prototypage Rapide pour l'Informatisation des Langues - 2013-2014)
- KRAP (Khmer Rouge Archives Preservation - 2013-2014)
- VIVA (VIetnamese Voice Assitant - 2013-2014)
- VIVAVU (VIetnamese Voice Assitant for Vision-impaired User - 2013-2014)
- ANR Blanc PI Languages (2009-2012)
- TALK (Traitement Automatique de la Langue Khmère - 2004-2005)
- VLSP (Vietnamese Language and Speech Processing 2005-2008)
- CORUS (2004-2006)

Network leading/participating
- CONE (Collaborative Open Network for Education),
- SPAN (Speech Processing Asian Network)
- COLIPS - ISCA - AFCP - API

Contacts
Nguyen Viet Son (Vice-director) - Cette adresse e-mail est protégée contre les robots spammeurs. Vous devez activer le JavaScript pour la visualiser.
Eric Castelli – Cette adresse e-mail est protégée contre les robots spammeurs. Vous devez activer le JavaScript pour la visualiser.
Mac Dang Khoa – Cette adresse e-mail est protégée contre les robots spammeurs. Vous devez activer le JavaScript pour la visualiser.
Do Thi Ngoc Diep – Cette adresse e-mail est protégée contre les robots spammeurs. Vous devez activer le JavaScript pour la visualiser.
Nguyen Cong Phuong - Cette adresse e-mail est protégée contre les robots spammeurs. Vous devez activer le JavaScript pour la visualiser.
Tran Thi Anh Xuan - Cette adresse e-mail est protégée contre les robots spammeurs. Vous devez activer le JavaScript pour la visualiser.
Nguyen Tuan Ninh (PhD) - Cette adresse e-mail est protégée contre les robots spammeurs. Vous devez activer le JavaScript pour la visualiser.
Duyen Hien Thanh (PhD) - Cette adresse e-mail est protégée contre les robots spammeurs. Vous devez activer le JavaScript pour la visualiser.
Pham Van Dong (PhD) - Cette adresse e-mail est protégée contre les robots spammeurs. Vous devez activer le JavaScript pour la visualiser.
Nguyen Hang Phuong (Master) - Cette adresse e-mail est protégée contre les robots spammeurs. Vous devez activer le JavaScript pour la visualiser.
Nguyen Manh Ha - manh-ha.nguyen at mica.edu.vn
Alexis Michaud (adjoint researcher) – Cette adresse e-mail est protégée contre les robots spammeurs. Vous devez activer le JavaScript pour la visualiser.
Partners
IOIT (Vietnam)
SoICT (Vietnam)
Institute of Linguistic (Vietnam)
LIG (France)
GIPSA-Lab (France)
Telecom Paris (Fr)
LPL (France)
PRAXILING (France)
DDL (France)
LIA (France)

LORIA (France)
LPP (France)
LIMSI (France)
ORANGE (Fr,Jp)
NII (Japan)
NICT (Japan)
ITC (Cambodia)
NIPTICT (Cambodia
USM (Malaisia)

| | |
| --- | --- |
| |  Page updated July 16, 2016 |